Posted by Shawn Norton |
Caught this chubby 3.5 lb landlock salmon down to Maranacook Lake late this morning. He's been eating well and certainly liked the looks of these processed smelt trolling along. If you are interested in ordering some processed smelt for yourself call the shop at 933-9499 but be sure to call ahead as we do not currently have any on hand!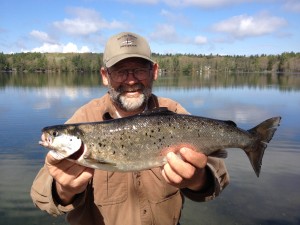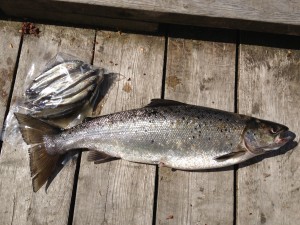 Posted by Shawn Norton |
How they bitin'? Pretty good! We recently landed this racer togue and a nice salmon out on Maranacook. Processed smelts in action. Call the shop ahead for any orders 933-9499!
Posted by Shawn Norton |
9+ Lb Togue I latched onto this morning. Jack's getting hot and these processed smelt are sure working good! They look and feel just like a live bait, great for trolling – call the shop at 933-9499 if your interested in getting  some for yourself!
Posted by Shawn Norton | Tagged
Brown
,
brown trout
,
Maranacook
,
processed
,
smelt
,
trout
Shawn, the newest addition to our team, and I went out on Maranacook this morning. Got a 5lb-er and a 2.5lb-er. Caught them both on processed smelts – preserved to keep the appearance of a live smelt. If you'd like some for yourself in bulk quantities give us a call at 207-933-9499.
← Older posts